Elephant soft toys – everyone has one right? They must be soo easy to make right? I'm sure I had that thought when my hobby started to grow into something more. Looking back at Cute Cuddles journey of the elephant I couldn't have been more wrong!
The first elephant soft toys I made to sell were basic to say the least! Complete with buttons for eyes even.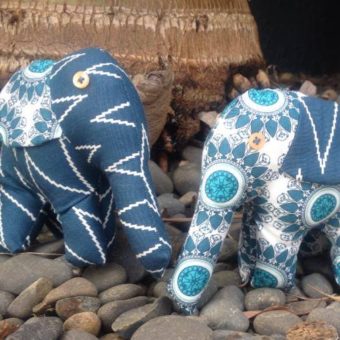 It was only after a little research I discovered that soft toys with plastic parts were not considered safe for children under 2 years old. Even as a parent I never knew that, until I had the responsibility of selling them to other mums.
Version 2 was born from that knowledge…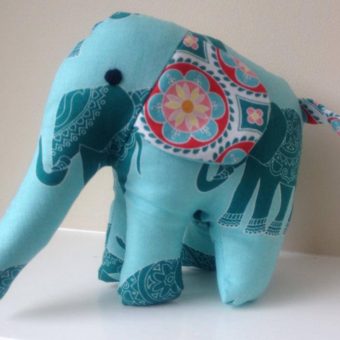 This still left me scratching my chin in thought. Was this the elephant soft toys I remembered cuddling as a child?
I'm sure mine had a big curly trunk..?
So off to the library I went with my children and flipped though the children's section to get an idea of what sort of elephants they were reading about in books? Once the children were napping I got my sketch book out and sketched some ideas, played around with some spare fabric and hey presto – Version 3 was born!
A Star was Born
I have been making soft toys now for 3 years and since that first year of exploring new styles and ideas, version 3 has become our signature elephant. In fact, I now make this fella in 4 different sizes!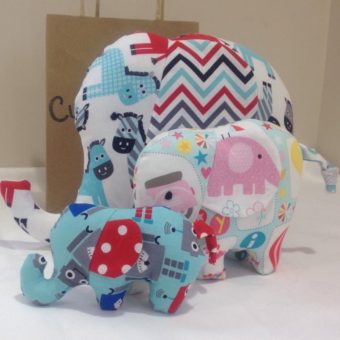 One rule I still keep to – I never make the same animal from the same fabric twice. But you might find the mini and the larger elephants in matching colour 🙂
Next time you are looking for the perfect gift for a little one in your life – remember us!
What do you remember about your favourite soft toy as a child?? I'd love to hear from you!
Until next time, take care!
Tracy
xXx