This is where the creation begins
Here at Cute Cuddles I make beautiful, unique gifts designed and made by hand using fabrics to make safe cuddly toys suitable for any age. There are two main reasons I started Cute Cuddles. When we found out that childcare wasn't an option for my daughter until we got on top of her health I felt I needed something outside of the family to focus on. Add to that I have always sewn from a very young age, so when I had children it was a very natural progression to start making various things for them.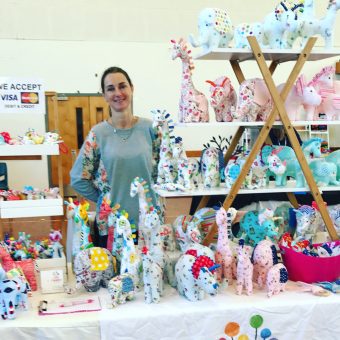 It was a very natural progression to start making soft toys for friends as gifts for baby showers and birthday parties. From there I built up a little stock and started at a local craft market. I have been selling online since fairly early too but nothing beats that one-on-one with customers. Especially the ones that come back and share their lovely stories with me. I also noticed that a lot of soft toys have plastic eyes, which unfortunately mean they shouldn't be given to small children or babies, as they are considered a choking hazard. This is the main reason I keep the eyes hand sewn on Cute Cuddles toys. In addition, to ensure their uniqueness, I never make the same toy from the same fabric twice – ensuring everything I make remains a one-of-a-kind. They make the perfect gift for baby showers, new born babies, birthdays of any age or just as a little something special.
Kids love them and parents will adore them!